Download 'Tip Wizard' Free App
Download free App for auto-rate controlled & Pulse width modulation sprayers!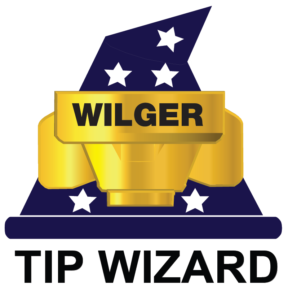 Tip Wizard has new features! ORS metering orifice calculator, Flow Indicator Ball Selector, and further improved Tip Wizard spray tip search. Tip Wizard aims to lead the industry as the best spray tip calculator for broadcast applications.
Simply input an agricultural spray or liquid application, and Tip Wizard will sort through and provide you the best Combo-Jet spray tips for the job. It will both simplify your tip selection process, but if you are wanting to become a better spray applicator, it provides advanced tools to give you more depth to look into.
Access Your Desktop or Laptop & Guide
Please click the button and go to the Tip-Wizard page. Wilger generously provides the FREE application.
GUIDE TO USING TIP WIZARD FOR STANDARD SPRAY SYSTEMS
Now that you've found Tip Wizard, it may be overwhelming when you first begin using it.
To help explain some of the processes that should be added to your tip selection practice, follow through the following guide to learn more about the best way to pick a spray tip that matches your intended spray application.
GUIDE TO USING TIP WIZARD FOR PULSE WIDTH MODULATION (PWM) SPRAY SYSTEMS
 You may be overwhelmed by all of the information that the application provides you. Don't worry, this guide should provide clarification.